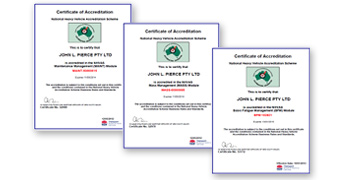 John L Pierce is a road transport company with a fundamental commitment to provide a service that exceeds our customer's expectations and industry best practice. Our commitment to quality is encompassed in our integrated quality management system that describes the business processes for which we are accountable.
The following Accreditations are held;
NHVAS Maintenance Management
NHVAS Mass Management
NHVAS Basic Fatigue Management
Through the implementation of the John L Pierce Management System, the operation is able to provide its customers with a professional transport service that can meet the freight task requirements, while at the same time proactively ensuring the duty of care and due diligence of its operation. The customized management system has been designed and implemented through the integration of our internal management systems and the industry National Heavy Vehicle Accreditation Scheme.
The integrated management system has been specifically developed to comply with industry best practice and meets the stringent standards required to provide transport services to the multi-national manufacturers that make up John L Pierce's client base. To ensure ongoing management and system compliance a process of customer specific and independent third party auditing is conducted at regular intervals.